Midwest Fall Brawl next up at I-80
i80
Midwest Fall Brawl next up at I-80 Speedway
I-80 Speedway will be silent until Saturday, September 30 when it's Midwest Fall Brawl time. The Midwest Fall Brawl will feature the ASCS National Sprint Car Series and the Nebraska 360 Sprint Car Series with the feature paying $5,000 to win and $500 to start. Searboro Telephone has also posted a $1,000 Hard Charger Award.
The Malvern Bank Super Late Models will also be in action with their feature paying $3,000 to win and $500 to start. That race will be the final race of the season for the Malvern Bank Series. The Modlites will also be racing at the Midwest Fall Brawl.
Sam Hafertepe, Jr. of Sunnyvale, Texas is the current ASCS National points leader while Ryan Roberts of Aurora leads in the Nebraska 360 point race and Tad Pospisil of Norfolk is the current Malvern Bank Super Late Model point leader.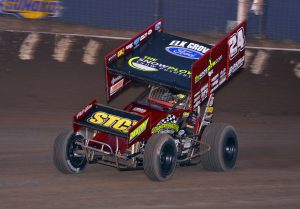 I-80 Speedway is located one block north of Interstate 80 Exit 420, halfway between Omaha and Lincoln. The Physical Address is 13909 – 238th Street, Greenwood, NE. For more information, visit www.i-80speedway.com or call (402)-342-3453. Don't forget to follow us on Facebook and Twitter.