Home Pride Kid's Money Grab and much more at I-80 on July 7
i80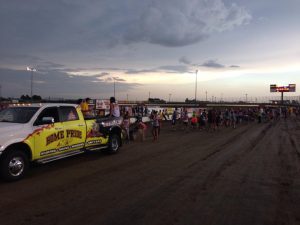 Home Pride Kid's Money Grab and much more at I-80 Speedway on July 7
I-80 Speedway will be a busy place on Friday, July 7. Kid's bring your parents because its Kid's Money Grab where the Home Pride Companies will be spreading coins on the frontstretch and the kid's can get as many as they can.
It's also Nebraska Corn Growers Night with the ethanol car on display and a special tribute to long-time area racer Bill Wrich who passed away early this year. The GOTRA (Good Ole Time Racing Association) will be in the house as well.
Regular classes in action will be the Cubby's Super Late Models, Kosiski Auto Parts Bragging Rights Late Models, Custom Diesel Driver's Training A Mods, Ty's Outdoor Power & Service B Mods, Rotella's Stock Cars and River City Heating and Cooling Compacts. Grandstands open at 5:30 pm with racing at 7:15 pm.
I-80 Speedway is located one block north of Interstate 80 Exit 420, halfway between Omaha and Lincoln. The Physical Address is 13909 – 238th Street, Greenwood, NE. For more information, visit www.i-80speedway.com or call (402)-342-3453. Don't forget to follow us on Facebook and Twitter.