GO 50 is fast approaching at I-80 Speedway
i80
GO 50 fast approaching at I-80 Speedway
The GO 50 at I-80 Speedway is fast approaching. In less than a month (on Sunday, May 20) many of the top Dirt Late Model drivers in the country will descend on I-80 Speedway for the $10,000 to win GO 50 which is a Lucas Oil Late Model Dirt Series event paying $10,000 to win.
The 2018 Lucas Oil Late Model points battle could be one of the best in years, Following this past weekend's action, Blairsville, Georgia's Jonathan Davenport sets top the Lucas Oil point standing with 2,120 points followed by defending series champion Josh Richards at 2,045 and the fast closing Hall of Famer Scott Bloomquist (with recent wins at the Atomic Speedway in Ohio & Port Royal in Pennsylvania) with 2,005.
All the other Lucas Oil regulars should be in the house including Earl Pearson, Jr., Tim McCreadie, Darrell Lanigan, Bobby Pierce, Don & Hudson O'Neal, Jimmy Owens, Greg Satterlee, Dennis Erb and Kyle Bronson among others. Many local and regional stars should be on hand as well.
Also racing will be unsanctioned Modifieds racing for $2,000 to win. Grandstand Admission for the GO 50 is just $30 for Adults, $5 Kids (6-12). Grandstands open at 5pm with action starting at 6:30pm. Visit the I-80 website at www.i-80speedway.com today and get your GO 50 tickets and also three day tickets for the Silver Dollar Nationals are available as well.
I-80 Speedway is located one block north of Interstate 80 Exit 420, halfway between Omaha and Lincoln. The Physical Address is 13909 – 238th Street, Greenwood, NE. Entrance to the track is at 13631 238th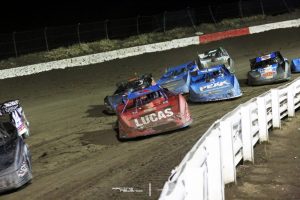 Street. For more information, visit www.i-80speedway.com or call (402)-342-3453. Don't forget to follow us on Facebook and Twitter.