Countdown to the Silver Dollar Nationals Continues
i80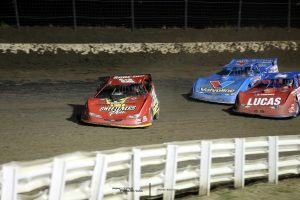 Countdown to the Silver Dollar Nationals Continues
The Countdown to the Silver Dollar Nationals at I-80 Speedway continues. The biggest race in Nebraska racing history has gotten bigger in 2018 with the addition of the rained out (May 20) Lucas Oil Late Model Dirt Series GO 50 to the program on Thursday, July 19. The three-day event (July 19 thru 21) now has a total purse of over $300,000 on the line.
Currently Jonathan Davenport (the 2016 Silver Dollar Nationals Champion and 2015 Lucas Oil Series Champion), Josh Richards (the defending Lucas Oil Late Model Dirt Series Champion) and the legendary Scott Bloomquist (a two-time Silver Dollar Nationals and three-time series champion) are locked in a battle for the Lucas Oil Championship.
Most of the best Dirt Late Model drivers in the country should be on hand for the Silver Dollar Nationals in addition to Davenport, Richards and Pearson. Some of those include defending Silver Dollar National Champion
Tim McCreadie, two-time (2014 & 2015) Silver Dollar Nationals Champion Scott Bloomquist, 2013 Silver Dollar Nationals Champion Jimmy Owens and the inaugural Silver Dollar Nationals Champion Don O'Neal. Brandon Sheppard, who charged from the back of the field to finish second to McCreadie in 2017 is also expected to be on hand.
The Silver Dollar Nationals always provides some great three and four wide racing as witnessed by Ryan Gustin's charge from the rear of the field in 2013 and last year's epic charge by Brandon Sheppard from 32nd to the runner-up spot. As Michael Rigsby, CEO of Dirt on Dirt said of last year's Silver Dollar Nationals "This is I-80. It doesn't matter where you start, you can win the race." That fact haven been soundly proven by both Gustin and Sheppard.
Add in the always tough USMTS Modified stars battling it out on Friday and Saturday along with a $5,300 to win Malvern Bank Super Late Model Series event and unsanctioned Modifieds joining the Lucas Oil GO 50 on Thursday night and you have the best three day dirt racing event you could ask for.
I-80 Speedway is located one block north of Interstate 80 Exit 420, halfway between Omaha and Lincoln. The Physical Address is 13909 – 238th Street, Greenwood, NE. Entrance to the track is at 13631 238th Street. For more information, visit www.i-80speedway.com or call (402)-342-3453. Don't forget to follow us on Facebook and Twitter.