2021 Schedule
i80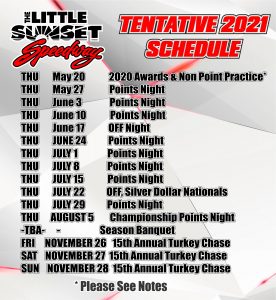 May 20th 2021 We will celebrate our 2020 season. Since we were not able to have a formal banquet over the winter, we will be giving season awards at 6:45 that evening with group pictures to follow each set of awards. We will also be holding a Practice / Shake Down night for all karts, new and old (even if you aren't there for our ceremony portion). Practice will be running from approx. 7-9. With approx. 4 sessions per class. We will have the transponders running that night and drivers will be able to see their lap times throughout the evening. There will be no formal races that night. Admission for the night will be $12 per person and there will be NO $10 driver registration that evening. Season registration will be open as well. If you do not plan to bring your kart – no problem but you will need to leave immediately after awards or go to the grandstand side. Anyone that would like to spend the evening at the track hanging out or practicing will need to have a pit pass.
We look forward to starting off 2021! Please watch for a post regarding which drivers are eligible to receive an award.
Please RSVP to our page letting us know if you plan to attend to pick up your awards, to practice, or both.