Malvern Bank Super Late Models headline I-80 on June 30
i80
Malvern Bank Super Late Models headline I-80 on June 30
The Malvern Bank Super Late Models will headline the I-80 Speedway races on Friday, June 30. The Malvern Bank feature will pay $2,000 to win thanks to Kaser Blasting of Lincoln. Entering the three-day Freedom Fest weekend at US30 Speedway in Columbus on June 29, Tad Pospisil of Norfolk leds the Malvern Bank Super Late Model point standings with 756 followed by Kyle Berck at 744 and Bill Leighton, Jr. at 734.
Also racing will be Custom Diesel Driver's Training A Mods, Ty's Outdoor Power & Service B Mods, Rotella's Stock Cars, Certified Transmission Hobby Stocks and River City Heating & Cooling Compacts. Grandstands open at 5:30 with Racing at 7:15 pm. Grandstand Admission is $15, Juniors (6-12) $5 with Five and Under free.
I-80 Speedway is located one block north of Interstate 80 Exit 420, halfway between Omaha and Lincoln. The Physical Address is 13909 – 238th Street, Greenwood, NE. For more information, visit www.i-80speedway.com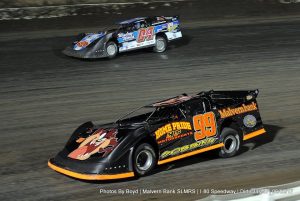 or call (402)-342-3453. Don't forget to follow us on Facebook and Twitter.