Lucas Oil Series returns to I-80 Speedway on May 20 for the GO 50
i80
Lucas Oil Series returns to I-80 fo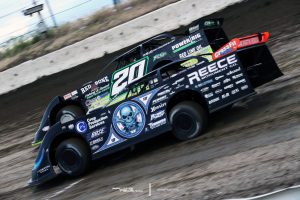 r GO 50 on Sunday, May 20
Don't miss the action when the Lucas Oil Late Model Dirt Series returns to I-80 Speedway on Sunday, May 20 for its first of two visits to the 4/10 mile facility. The series returns for the $53,000 to win Silver Dollar Nationals from July 19 thru 21.
After March 24 action at the East Alabama Motor Speedway in Phenix City, Alabama, Jonathan Davenport (2016 Silver Dollar Nationals Champion) holds a razor slim five point advantage over defending series champion Josh Richards (1,455 to 1,450). "The Hurricane" Earl Pearson, Jr. is only 25 points behind Richards.
Other national drivers expected include defending race champion, two-time Silver Dollar Nationals Champion and multi-time series champion Scott Bloomquist, inaugural Silver Dollar Nationals Champion and former series champion Don O'Neal, 2013 Silver Dollar Nationals Champion and multi-time series champion Jimmy Owens, and defending Silver Dollar Nationals Champion Tim McCreadie just to name a few.
Also racing will be unsanctioned Modifieds racing for $2,000 to win. Grandstand Admission for the GO 50 is just $30 for Adults, $5 Kids (6-12). Grandstands open at 5pm with action starting at 6:30pm.
I-80 Speedway is located one block north of Interstate 80 Exit 420, halfway between Omaha and Lincoln. The Physical Address is 13909 – 238th Street, Greenwood, NE. Entrance to the track is at 13631 238th Street. For more information, visit www.i-80speedway.com or call (402)-342-3453. Don't forget to follow us on Facebook and Twitter.