Lucas Oil Late Model portion of Silver Dollar purse is over $200,000
i80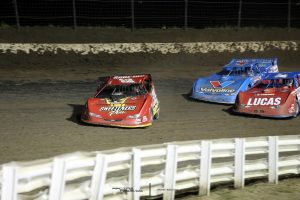 Lucas Oil Late Model portion of Silver Dollar Nationals Purse goes over $200,000
With the Eighth Annual Silver Dollar Nationals set at I-80 Speedway for July 19 thru 21, we are excited to announce that the Lucas Oil Late Model portion of the purse will be in excess of $200,000 in 2018.
"We keep working to make the Silver Dollar Nationals bigger and better each year for our competitors and for the fans." says I-80 Promoter Joe Kosiski. "This year the Lucas Oil portion of the purse will be in excess of $200,000."
The thirty car 80 lap feature event will once again pay a whooping $53,000 to win with a total purse of $171,650. The Belt Bash purse has been raised over $5,700 to a total of $22,385. 24 cars are now eligible to start the Belt Bash which will pay $3,000 to win and $500 to start. Throw in $6,000 for the double qualifying heats and you have a total purse for the Lucas Oil Late Models of $200,035!
Previous winners of the Lucas Oil portion of the Silver Dollar Nationals include; Don O'Neal in 2011, Brian Birkhofer in 2012, Jimmy Owens in 2013, Scott Bloomquist in 2014 & 2015, Jonathan Davenport in 2016 and Tim McCreadie in 2017.
I-80 Speedway is located one block north of Interstate 80 Exit 420, halfway between Omaha and Lincoln. The Physical Address is 13909 – 238th Street, Greenwood, NE. Entrance to the track is at 13631 238th Street. For more information, visit www.i-80speedway.com or call (402)-342-3453. Don't forget to follow us on Facebook and Twitter.