Don't forget to pre-enter the Speedway Motors Cornhusker Classic
i80
Don't forget to pre-register for the Speedway Motors Cornhusker Classic
Don't forget to register for the Cornhusker Classic which is coming up on Friday, October 13 & Saturday, October 14 with a practice on Thursday, October 12. The Cornhusker features six classes of racing highlighted by a Modified feature on Saturday, October 14 that pays $6,000 to win and $500 to start. B Mod/Sport Mods and Stock Cars will pay $1,200 win and $200 to start. Those classes will run double qualifying heats on Friday with last chance, bashes and features on Saturday.
Bragging Rights Late Models, Hobby Stocks and Compacts will run complete programs on both Friday and Saturday night. Bragging Rights Late Models and Hobby Stock features will pay $400 to win on Friday and $800 to win on Saturday. Compact features will pay $200 to win on Friday and $500 to win on Saturday.
Drivers's can pre-register for the race and reserve, pit passes and pit stalls on line at the I-80 Speedway website at http://www.i-80speedway.com/i80/driver-info/pre-entry-registration/cornhusker-classic-registration/. Pre-registration ends at 11pm, October 8.
Pits open at 4:30 pm on Thursday with practice from 6 to 9 pm. On Friday, Pit gates open at 2 pm, Grandstands at 5:30 with Drivers Meetig & Draw close @ 6pm and racing at 7:15. On Saturday pits open at 2pm., Grandstands at 4:30 pm., Drivers meeting at Draw close at 4:30 with racing at 6pm.
I-80 Speedway is located one block north of Interstate 80 Exit 420, halfway between Omaha and Lincoln. The Physical Address is 13909 – 238th Street, Greenwood, NE. For more information, visit www.i-80speedway.com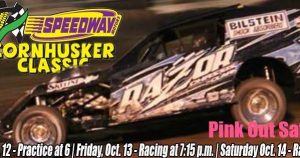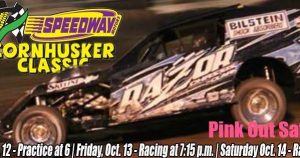 or call (402)-342-3453. Don't forget to follow us on Facebook and Twitter.